Discover the magic of integrative farming and natural building in sunny Costa Rica! Join the life-changing program at Raices del Sol's stunning private wildlife refuge for an intense learning experience filled with discovery and adventure. Read on to learn more about the program →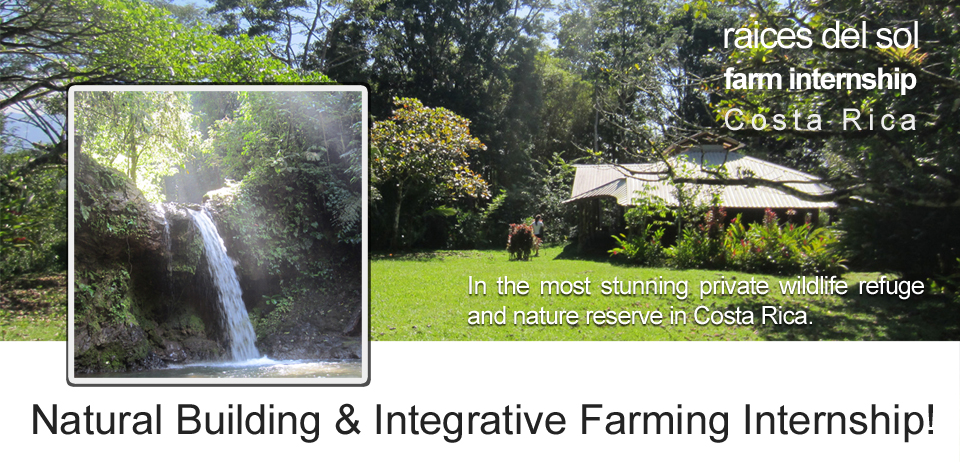 Integrative Farming
Biodynamic, permaculture, agroforestry, and organic farming is covered in this incredible program. From natural animal care, to field cultivation, gardening, composting, food processing & preparation, farm management, and so much more.
Read the full curriculum and register online.
Alternative Agriculture
Learn to care for free-ranging chickens and turkeys, study and practice natural horsemanship, observe the diverse wildlife on the farm and protect their habitat. Learn to cultivate fields while increasing and retaining soil fertility, learn various composting methods, plant vegetables and herbs in the gardens, care for our thousands of fruit trees, and more.

Farm to Table
Learn everything there is to know in the fascinating world of Farm to Table! From harvesting, to milking, collecting eggs, food preparation, traditional food processing, food preservation (such as fermenting), nutrition (including Weston A. Price principles of nutrition) and a whole lot more. Oh and yes, you'll make tortillas too.

Natural Building
Participants in the summer program will join in a fascinating and unique natural building project. Learn to build your own natural house from the ground up! The program also includes organized classes and talks lead by people who live and breathe natural building in the tropics every day.
Interns of the program take on the fascinating journey of building a structure from the ground up using natural materials. Make sure to read the full curriculum and register online.

Natural Sustainable Forestry
Learn about types of wood, their properties and their uses, forest management, sustainable forestry and animal-powered logging, reforestation, and more. All while discovering the incredible untouched forests and nature at RDS. Not to mention our famous waterfalls!

Build a House!
Build an entire structure from the ground up the true natural way. Get inspired by the existing natural buildings at RDS, including your incredible and truly unique accommodations! Learn to work the wood with various tools, work with bamboo, cob, and other natural materials.

Come Live Unique Experiences and Get Transformed
In addition to full-on hands-on education, all internships include organized classes, workshops, field trips, and more. While at RDS, interns are exposed to a wide variety of fields such as alternative natural building, martial arts, yoga, natural horsemanship, wildlife preservation, trail maintenance, hydro-power, and so much more! Optional Spanish classes are also available to all participants of our programs.
RDS professional internships provide truly unique experiences and real, valuable skill-sets that are today in high demand worldwide.
Who are you?
You're passionate about farming, natural building, sustainability, diversity, authenticity, and community living. You feel highly motivated and excited. You're clear on what it is you're looking for and in which direction you're headed.
Families welcome! RDS is a kid-awesome place and families are particularly happy here.
Fill out your registration form today. Availability is on a first-come basis and since we aim for quality over quantity, space is limited. Don't delay! We look forward to hearing from you.
Important details
The program is suitable to anyone who's dedicated and motivated, including couples and families. Interns tend to do a lot of hard physical work and most of the time is spent outdoors. Accommodations are beautiful and very comfortable. All interns live together at The Nest which is one of RDS's natural building structures.
How much does it cost
Tuition: $2610 for 3 months (just about $29/day). All inclusive. Register today!
Food and lodging is included.
Transportation to RDS is not included.